Why You Need to Build a Customer-Centric Roadmap
User-centricity puts the customer at the center of all decisions in a product-centric company. This means that every time you decide on a product, you have to ask whether the change will help the customer.
A customer-centric roadmap is key to delivering an excellent customer experience. It is a strategy that incorporates customer feedback, needs, and insights into the product lifecycle through multiple iterations.
Companies need to be customer-centric, not just in name only, because it will make them more successful. Why? Satisfied customers are more loyal, more likely to give a positive review or recommend a product or service to others, and more likely to respond to a survey to help improve the product or service. This is all very useful and effective, while high churn rates are costly, so it's easy to see why user-centric products and companies are more successful and generate higher profits.
User-Centric Roadmaps to Avoid Product Management Pitfalls
According to statistics, 42% of startups fail because they create products without having a clear understating of who will use their products and for what specific purpose. Many startup teams try to solve the problems that they find "interesting to solve" rather than problems that serve a market need. In many cases, that's because they don't have a clear product roadmap.
Do you want to avoid these pitfalls and make your project a success? Do market research and build a product roadmap before jumping into the development process.
Are you new to product road mapping?
Here is a brief guide for you.
Create a User-Centric Product Strategy
Before you start to create a roadmap, you should outline your product vision and product strategy by answering the following questions:
Who is your target audience? How can you describe people who will use your product? Here you need to specify how old your prospective users are, what languages they speak, what software products they prefer to use in everyday life, etc. Even better, you can create user personas.
What is the specific problem that your product solves? Define a market need and explain how your product will benefit users. You can put it this way: "Our product will help users save X time on completing Z and Y tasks."
How will your product differ from other similar products available? What specific features will make it unique and useful?
Naturally, you need to discuss these questions with your team and other stakeholders. You can do it using StoriesOnBoard.
Build Your Product Roadmap in StoriesOnBoard in 5 Simple Steps
Invite team members and stakeholders to join the platform by email and select their roles. Choose the option "Members", so they can create and edit "Insights" and "Ideas" while discussing your company's strategy and other questions.
Step 2 – Automate product feedback & idea collection into a single repository
Go to the tab "Feedback Management" and then to the tab "Insights". This is where you'll be able to collect granular pieces of product feedback like random feature requests or ideas.
Once you are ready to add the first insight, click the right-top button.
Describe your idea in a few sentences. Save the "Insight".
Encourage your team members to add their ideas as "Insights", and then start a discussion. Invite team members to comment on each other's posts.
The great thing about product insights in StoriesOnBoard is that you can automate insight collection to save you valuable time. Set up e-mail automations, add the Chrome extension or set up Zaps with the tools of your choice so that you never lose track of a valuable feature idea again.
3. Keep insights organized
If there are some ideas on the list that your team is not ready to start working on yet, you can move them to the "Incubated" list and review them later.
If there are some irrelevant "Insights" on the list, you can archive them to declutter the main Insight list. You can also create your lists for insights if you'd sort them according to status, the product or feature they refer to, where they came from, etc.
4. Convert product insights into actionable feature ideas
Once the list of "Insights" is ready for review, you can convert the best ones into "Ideas" and start working on them. Choose the necessary "Insight" from the list and title it. Encourage team members to comment on "Ideas" and share their opinion.
Ideas are supposed to be higher in the hierarchy, so you may want to group some product insights to create a single feature idea that you could develop. For example, someone might want to log in automatically and someone may find your sign-up process lengthy. Both of those insights could belong to an idea called "SSO login".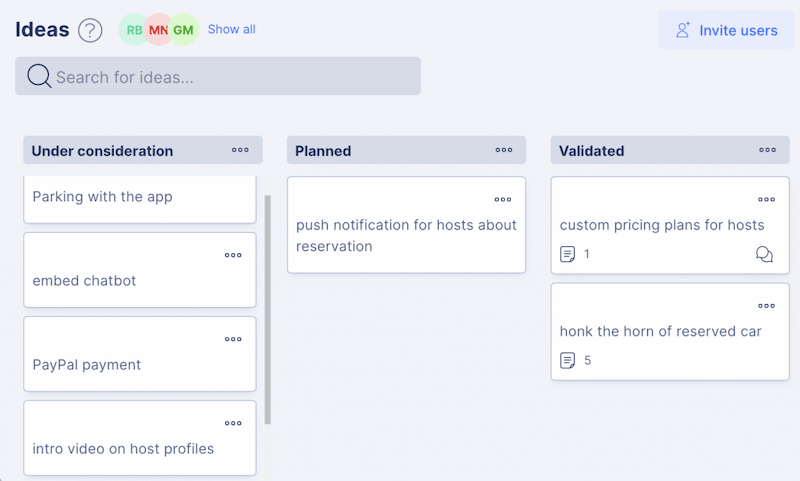 Your ideas board will probably have lots of feature ideas in different statuses. You can create as many statuses as you need or have in your development process and simply drag & drop feature ideas into the right column.
The more stakeholders will provide feedback, the easier it will be for you to define the best ideas and create a more compelling product roadmap.
Step 5 – Discuss requirements with stakeholders on a public product roadmap
To build an effective product roadmap, you should discuss the product requirements with most likely your sales and customer support team or sometimes with external collaborators. It's very rewarding reaching out to the user community and finding out what they expect from your product, including specific features, designs, etc.
If you use StoriesOnBoard, you can invite sales and customer support team members and other stakeholders to join the platform and participate in the discussion. Just make sure to assign them the "Member" role, so they have permission to add new "Insights" and write comments or choose their role wisely.
Consider "going public"
With the help of advanced product management, you can create a public product roadmap, so you can make your roadmap accessible not only to your team members but also to your current customers, prospective users, and other stakeholders.
The main benefit of using public product roadmaps is that it allows teams to validate their ideas with real users and, ultimately, enhance the product development process.
With the help of the Feedback Management feature, you can encourage users to share their suggestions and ideas on how you can improve your product (build new features, add new integration options, update UI, etc). You can structure these ideas and add the best ones to the existing product roadmap.
Using this tool, you can convince users that you value their opinions and that your team is working hard to provide the most effective solution.
Timely given feedback helps developers understand how they should improve the product and what features they should add in the first place to meet customer expectations. It allows the team to better product quality while also cutting development time.
Your public roadmap in StoriesOnBoard will have a similar build-up to your ideas board, except it's completely up to you to decide what ideas will be shown and what ideas will stay hidden.
Step 6 – Implement ideas and place them on a story map
This tool will help you visualize the process of ideas discussion.
Define goals/epics
Finally, you can immerse yourself in the user story map-building process. And the first thing you should do is to define the types of users and the goals these users want to complete.
Let's consider an example. Imagine your team wants to create a shopping app. Two types of users will use your app:
A manager who will administrate products
A shopper who will search for products, select products, buy products, and write product reviews.
Naturally, you can add to your roadmap as many users and goals as needed.
Also, you can leverage user segmentation. You can divide users who complete the same goal into distinct groups based on shared characteristics. For instance, you can segment people who buy products into such categories: regular buyers, impulsive buyers, last-minute shoppers, discount chasers, etc. You can even give them real people's names.
Outline user steps
Next, you should try to split the user's activities into "user steps" and do it following the narrative flow. You should list all the steps in a logical order.
For example, users who have a goal to "buy a product" need to complete the following steps:
Sign in to the app
Add selected products to the shopping cart
Place an order
Make a Payment
Add user stories
What is a user story? It's a set of actions that users will likely take within one "user step". For example, "to find a product", users will use "basic search" while also "browse products by categories".
You need to create a few cards for each user story. Here is a pro tip for you: ask everyone in your team to write out the tasks they would need to do independently and then discuss all the tasks collectively and remove duplicated tasks.
Why it's important to create user stories? User stories help developers visualize the sequence of the user's actions and better understand the logic behind the user's behavior.
Use icons and symbols
If some cards/tasks need to be discussed or to be split, mark those tasks respectively using icons, symbols, or colors. It will help you ensure that developers will complete those tasks according to the given guidelines.
Let's say you design a mobile app for students and you want a UX designer to discuss some UX writing issues with experts. If you mark the card this way, you will ensure that the UX expert will not forget to tap into the discussion.
Prioritize your ideas
If you get ideas on how your product can be improved in the future, you can add extra cards to your product map. Even more, you can divide your cards into categories "Should have", "Could have", and "Won't have". It's another great way to boost the effectiveness of your product strategy and enhance the development process.
Slice out releases
When it comes to product development, deadlines always play an essential role. If you want your team to release the product on time, make sure to specify the release date along with key release goals. When developers know deadlines, they prioritize tasks the right way and work more effectively.
Consider Going the extra mile – Go Beyond a Simple Product Roadmap
While a product roadmap per sé serves a variety of purposes – feature validation, transparency, community engagement – if it is not deeply integrated into your product management processes, it might still hang in the air. This is why we encourage you to build a cohesive process that takes you from ideation and product discovery through implementation to closing the feedback loop. Implementing such a process will take more effort, but it will be more rewarding in the long run.
Wrapping up
Building a product roadmap is not as challenging as it may look. Just learn the core principles, and you will create a great roadmap for your product. You can be sure that once you do it, you will take the product development process to a new level.
Handpicked articles for your product management journey
Author's bio. Jessica Fender is a copywriter and blogger at GetGoodGrade with a background in marketing and sales. She enjoys sharing her experience with like-minded professionals who aim to provide customers with high-quality services.