Face it. If an identified user does not have a good experience with you, that user will quickly bounce and go elsewhere. Whether you have developed a new piece of software, a product, or a new service (e.g., a subscription), you cannot present and market that innovation without a focus on the value it brings to the user. As you develop your innovation, the all-consuming question must be – how will the end-user benefit? This is where user story mapping in UX design can help.
And herein lies the importance of the user story. Those who craft them correctly throughout their development process will end up with satisfied and loyal users and consumers. While they are quite common in software development teams, every business niche should be involved in their use. It's a matter of knowing why a product or service is being developed, what exactly that product or service is, and the value that it will bring to potential customers/users.
Contents
It all comes down to creating value for the user like in this example
Let's look at one of the simplest examples. In 2010, Michael Dubin and Mark Levine met at a party. They chatted about their frustration with the cost of disposable razors and the inconvenience of remembering to stop at the store to buy replacements.
Certainly, other men felt the same frustrations. Thus, the idea of the Dollar Shave Club was born.
Where did they take the idea from there?
The development of their initial product and subsequent subscription model occurred over less than a year, and they launched the company in 2011. These two had a customer persona, had identified a pain point, and then built their business around eliminating that pain point and marketing the value to their customer base. Anyone who has watched the original explainer video on the early Dollar Save Club website has a perfect example of how a user story defined the building of a multi-million-dollar corporation.
What is a User Story?
Put most simply, a user story consists of a user-focused explanation of small pieces of a product feature. User stories use simple language with one goal in mind – how will our customers benefit from this piece of our product development? In the case of Dollar Shave Club, there were only two pieces to the story – price frustration and inconvenience. In terms of complex software development, the stories may be numerous, as you develop each piece of that software.
And when you combine several individual stories into a larger piece, they become known as "epics" (thank you, Greek Poet Homer).
It's important to remember that user stories are not formal additional resources like the narratives a student might produce in school. These are informal, short pieces of writing that outline the pain points and needs of a potential customer. They don't have to be complicated, compose them in short phrases or at least clear, simple sentences.
Why User Story Mapping is Critical in UI / UX Design
Without user stories, who are you developing products for? Without regard to their value to anyone. This might satisfy the developer but no one else. And the chance of that product meeting customer needs is in serious jeopardy. Here is a breakdown of the benefits of user stories:
They put product developers and managers on the same page – addressing and solving the pain points of users/customers.
User stories foster collaboration and creativity – developers and managers can make decisions about what will best meet user needs and work together to come up with creative solutions.
They increase motivation on the part of developers. As developers see each user story getting done throughout the project, they will feel like they have conquered a challenge. "Success begets success" as the saying goes.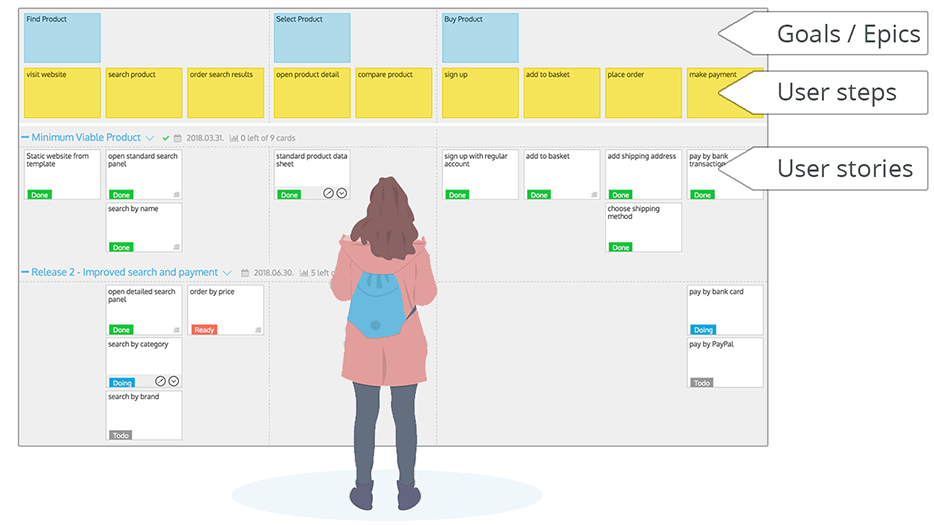 Writing User Stories for UX
There are some key steps in writing user stories for UI/UX:
First, outline the tasks that must be completed to develop the product. If a team is involved, assign tasks to specific members.
Determine for whom the tasks are completed – these are accomplished by having already developed a user persona. Sometimes, there may be more than one persona.
Compose a user story for each task – what will the user be able to do as a result of the task?
It is certainly valuable to talk directly with users/customers. This will allow them to provide their needs and pain points that you can map precisely with user stories.
A user story is finished/completed when it is determined that the customer/user can complete the action or task you have defined.
Learn more about why StoriesOnBoard is a great tool for UI/UX Designers
Templates for UI/UX User Stories
What is story mapping? Story mapping is a method for arranging user stories to create a more holistic view of how they fit into the overall user experience. You do not have to create your template for user stories. There are plenty out there that have been developed over the past several years.
The best option is, of course, the StoriesOnBoard Template Library. On our website, there are plenty of user story mapping cases, useful blog posts, and story map examples.
Steps of UX story mapping
To begin the user story process, it is a good idea to compose simple sentences, based on what the end-user wants to accomplish. In the case of Dollar Shave Club, for example, it might go something like this:
In the case of an end-user of a project management software tool, it might be something like this:
An online consumer's user story might go as follows:
Use a visual that will allow everyone to see the complete picture. You have certain goals for your product development. Within each of those goals (e.g., epics) are the steps you want users to take.
For each journey a user/customer will be taking, you can create a user story. If there are multiple personas, it may be necessary to draft user stories for each of them.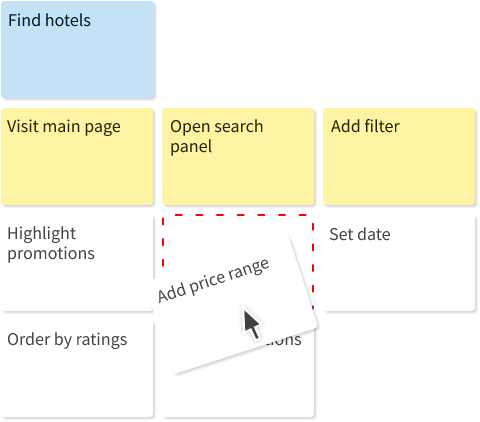 Additional Considerations and Tips for story mapping in UX
As you or your team go through the user story development process, here are some tips that should guide the process:
Tips for a more user-centric approach to design
Remember it is not about you as a developer of a product or service. It's all about the user and what he wants and needs. You have to "think" like a user, not like a developer.
Get personal. When you develop user/customer personas, give those people a name. You may have someone in mind that spurred you on to create this product. Use him/her as one of your personas.
If you have multiple end-users, identify what each of them will expect from your product. In the case of Dollar Shave Club, for example, some users will just want the cheaper price; other users don't care so much about the price – they want the convenience. This is a small epic, and there should be two user stories. You will probably have larger epics. Just be certain that each user/customer has a story within that epic.
Answering the question "why" can sometimes be the toughest part of the user story. Why does the end-user want what he wants? He has a pain point or two and he's looking for relief. And your product's goal is to relieve them.
Tips for development and refinement
Any user story should result in a development task. Upon completing the task, you must test the UX with actual users/customers. Gather their feedback, sort them and act upon the ones with the most value.
So, a restaurant owner wants to be able to add and change pictures of food items on his menu quickly and easily. Why? Because he believes that compelling photos will increase the number of items ordered when customers are seeing his menu online. Once you understand the "why," you are far more focused on making that happen, providing the methods for him to do this on his own through your product.
Be certain that your end-user goals also correspond with your goal of increasing revenues and KPIs. Every story should contribute to your business goals too. Otherwise, why are you developing the product?
If a team is involved in the development, they should get a chance to contribute to each user story. This helps to refine them and to ensure that all team members accept them as valid.
The Wrap
User stories are a critical aspect of product/service development – no matter what type of product or service that might be. But getting them correct is the challenge. Use the information above for help.
Author Bio: Bridgette Hernandez is a lover of all things digital, especially content marketing. She does some editing work at Subject, a website with free essay samples. In her "other life," she is the keyboardist for a local band and enjoys subjecting friends to gourmet cooking experiments.