If you've logged into the StoriesOnBoard app recently, you may already have come across a brand new workspace dashboard with several new features.
Empowering our users to maximize efficiency has always been our primary goal. During the last couple of months, we've been tirelessly working on improving the user story mapping experience with a workspace dashboard and some new features.
Complex projects may require several story maps within different workspaces and advanced user management. In order to make it easier to keep track of different roadmaps, user roles and user stories, we added a workspace dashboard. As a result, all important updates are gathered in one place on that given workspace.

Skim through the new features, try them and let us know how we did.
User story mapping is made easier with the new workspace dashboard view
When you log in to a workspace, you land on its dashboard. If you have only one workspace, this workspace dashboard is where you'll always land. This intuitive view makes navigation around your story maps easy, given the fact that it gives you an overview of the most important updates on your backlog.
Above all that we included various informative widgets: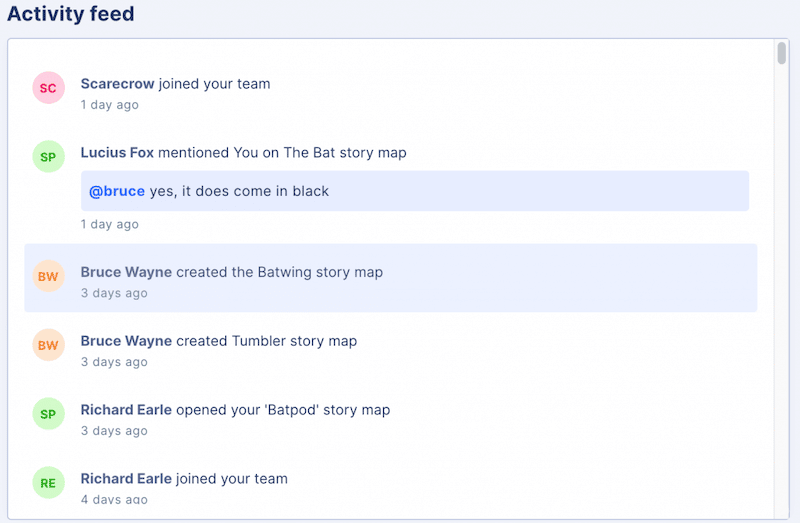 The Activity Feed provides you with a recap of what happened while you were away. This way you can easily keep track of new users joining, newly created story maps, and mentions. Just click on the update in the feed to navigate to the activity right away.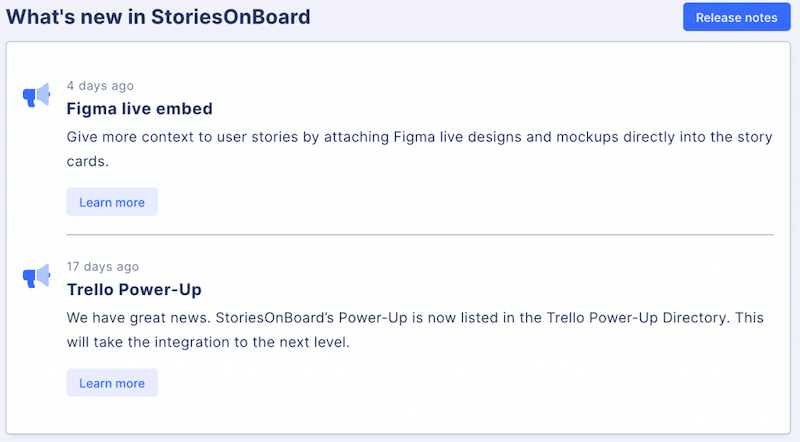 Similarly, the What's New Widget delivers you the latest news regarding the StoriesOnBoard app. Keep an eye on it so that you never miss a feature that may be a much-needed boost to your productivity.
The Users Widget gives you oversight on users with editor and observer access to your workspace.
In addition, the sidebar in the dashboard view assists easy navigation between the Workspace Dashboard and Story maps. There's also a Profile Menu on the bottom where you can access Account Settings, Advanced Settings, and Notification Settings or switch easily between workspaces. 
The Top Navigation allows you to customize your workspace by managing story maps, creating collections, setting up integrations, and changing your subscription plan.
Your story maps menu
Story maps moved into a new home that you can access from the sidebar. Story map tiles also got a much-needed facelift. Furthermore, besides looking a bit fresher, the new story map tiles feature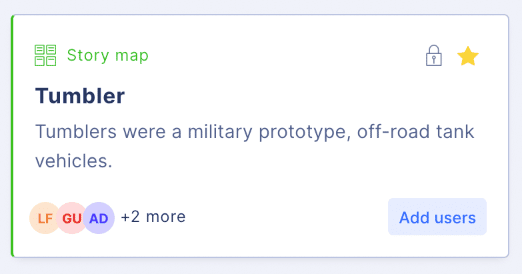 a visibility icon (public or private),
a favorite icon (you can mark it as a favorite),
users with different access rights,
an 'Add users' button where you can quickly invite users to that specific board.
Can't see the end of all the user stories you created? We got some good news for you! The Your story maps menu has been equipped with a variety of features that facilitate the effortless management of many user stories.
Use the Search Bar to find the story map you are looking for.
Create collections to organize story maps.
Switch to a List View and sort story maps according to name, date, and visibility so that you can find what you're looking for in just a few clicks.

Advanced user management
StoriesOnBoard offers a revamped way to manage large teams effortlessly. Advanced user management is available from the Workspace Dashboard. The list view details the access rights of all users. You can also change user roles and grant permissions with a single click here.
Don't waste time granting the usual user roles to your team members, when creating a new story map. Use the 'Copy users from another story map' button to select users you want to add to the new story map with the same user roles.
Feedback portal
You may wonder what the 'Feedback portal' menu is for on the sidebar. We want you to build products that users and customers will love and give you the tools that will help you do just that. For this reason, we wanted to give you a sneak peek into what else is on our backlog.
Streamline user feedback from the front lines
Accessible from your Workspace Dashboard, the Feedback portal would allow you to gather and organize feedback coming from different customer-facing and internal channels, should that be Intercom, e-mail, Trello, etc. Never lose sight of a valuable idea again by pushing feedback automatically into a unified feedback repository.
Convert feedback into actionable ideas
We want to bridge the gap between user experience and a killer backlog. Therefore, the portal would allow you to group and organize feedback into factual ideas that can turn into features.
Share ideas on a public roadmap
Once you got a valuable idea, it's time for validation. Push ideas onto a public roadmap where your target audience could let you know in a few clicks how useful they find your idea. Take action on the ideas with the higher value added. Thus, you can show your power users what ideas have made it into the development phase.
What are your thoughts? Should we move it onto the 'In progress' tab? Let us know in what way our Feedback portal would be useful to you.