You've got a great product, and many ideas and feature requests, but no idea where to start organizing them. That's why you should use a feature request tracking system that allows you to track requests from customers and prioritize them accordingly.
As a user, what products do you love? The ones that feel like they can read your mind? Products that make your workflows effortless? The ones that entertain you? The ones that work with the tools you already have?
Whatever those things might be, Product Managers keep a close eye on them. They usually have some kind of feature request tracking system in place where they can collect feature ideas coming from the user and build them into the product. They want to make sure that they include every feature that makes their product lovable.
Don't fall into the feature factory trap
And this is where some products fail. In many cases, you see products that are so cramped features that it affects usability.
Why is that?
Most feature request tracking systems miss out on a key step in the process: understanding. They focus on delivering exactly what was requested, as quickly as possible without examining the underlying motivations behind a certain request. Cramping products with features is likely to negatively impact the user experience, resulting in the opposite of what was intended in the first place: a product that is hard to use.
You can read more about this pitfall in the book 'Escaping the Build Trap: How Effective Product Management Creates Real Value' by Melissa Perry.
A better understanding of feature requests must be part of a feature request tracking system
We noticed that many times we try to solve user issues without actually learning about them in detail. Having a research team has helped us a great deal to overcome that problem, but we wanted to give a tool to all product teams that will facilitate better understanding. This is why the contact information of the user/client/stakeholder who provided feature requests is visible in StoriesOnBoard throughout all phases of the product development process. You can reach out to them at any time.
Track where feature requests came from and build an engaged user base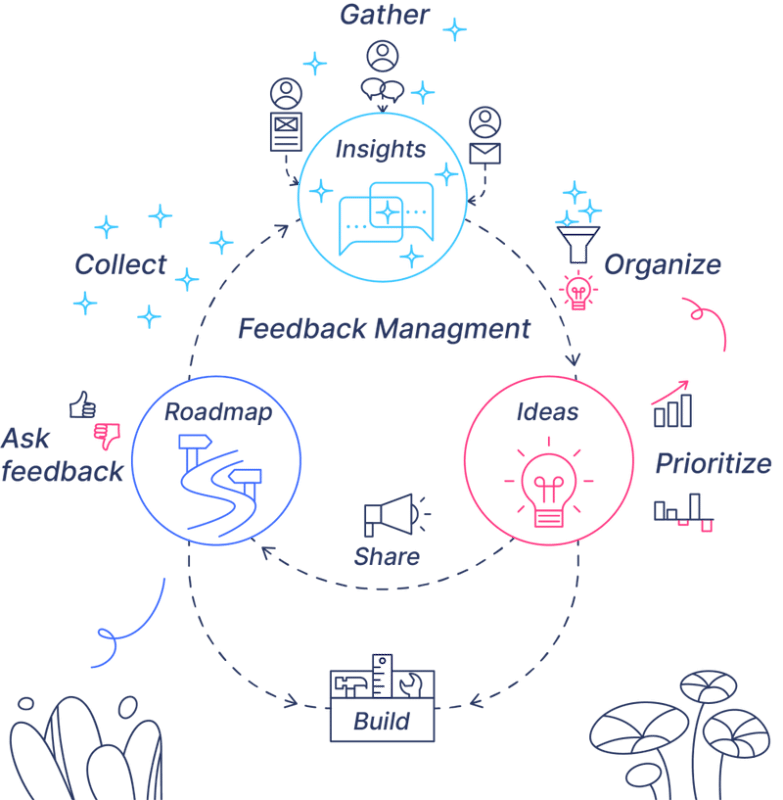 Creating a product roadmap built on real product feedback from users, however, takes the guesswork out of the process. A carefully created roadmap is more likely to lead to success and keep customers happy. It might be quite a challenge to find the middle ground between trying to keep customers happy and building a realistic roadmap. We hope that the following tips will help you with just that – building a realistic roadmap based on a feature-tracking system.
Learn how the StoriesOnBoard Feedback Management process handles all important phases
Benefits of a feature request tracking system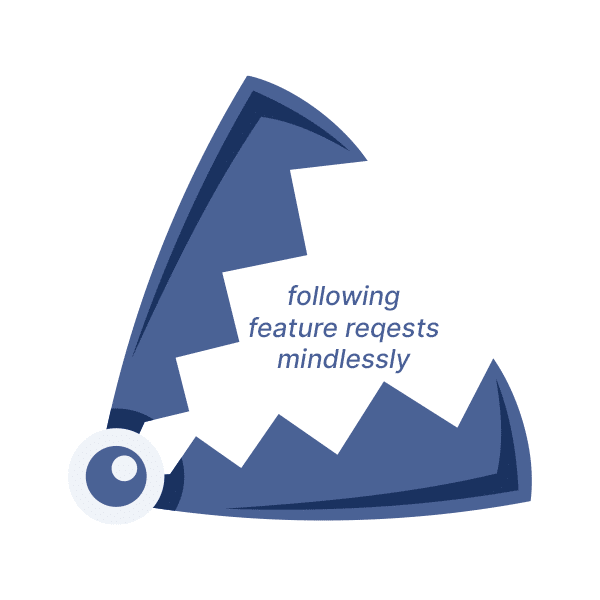 1. Prioritize ideas to avoid the feature factory trap
Let's address the most common pitfall in product development: avoid the feature factory trap as much as possible with prioritization. You'll probably get way more feature requests than what you can build into the product. It's not the number of ideas that set the limit, but the capacity. This is when prioritization comes into the picture.
How does a feature request tracking system help you prioritize ideas?
A feature request tracking system will give you a more precise overview of how many of your users would be affected by it. It can make all the difference to see if a certain feature would benefit two or a thousand users. Just imagine your inbox full of emails from a support staff member who is pushy and tired of a user always asking for the same feature. You'll get a thousand emails, but only a single feature request. Of course, feature request tracking systems can also help you take the revenue coming in from an important account into consideration.
Even such a system won't give you perfect data, but the estimates will be closer to reality.
Learn more about the 7 best agile prioritization frameworks in agile product development here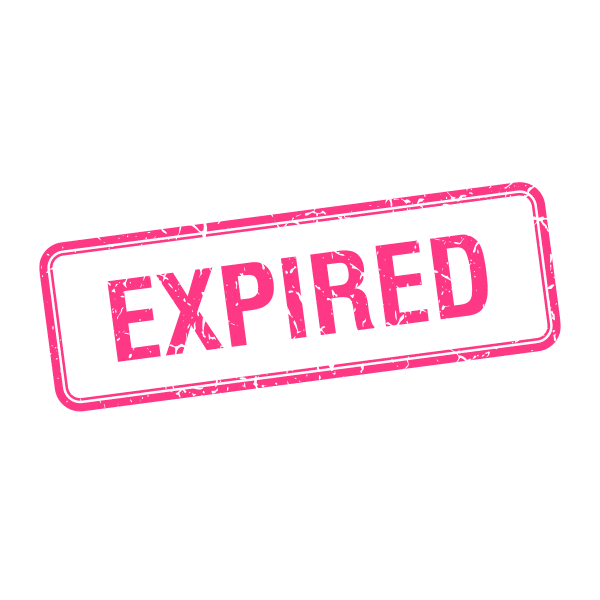 2. Tracking relevancy by seeing the date of the feedback
We've seen many companies that had a feature request tracking system – or at least a box full of ideas – in place that became something like an idea depot over time. Hundreds of thousands of feature requests piled on top of each other non-categorized, some even from 5-7 years ago. Most of those today would be irrelevant, of course, but what about the ones that still have value today?
When a feature request tracking system is in place, it probably allows you to track when requests came in and identify trends. For instance, if you had gotten many upvotes for an idea 2 years ago, but haven't developed it, it's very likely to have lost its relevancy.
Using a feature request tracking system, you can filter out the ones that are still relevant, and just get rid of the old ones. If a feature request is really important, it'll reappear in the very near future.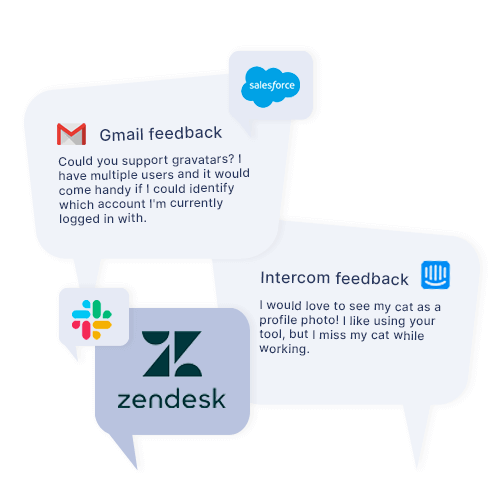 3. Track all feedback, but differentiate by the source
Feature requests are coming in from everywhere and from everyone:
sales reps prepare documents or notes during customer calls,
support staff pinging PMs in Intercom or sending a Slack message,
users directly on Intercom, chatbots, comments on blog posts, email, or even social media.
It's hard to keep all feature requests in a structured manner. If you don't have a feature tracking system in place, you may have feedback all over – on different channels. Still, seeing what channel feedback came from might prove to be key information when soring feedback. For instance, a message from a customer via the Intercom chat takes much less effort than a review on a third-party site. Having that information that the customer was willing to provide a review already gives you valuable information on their engagement and probably experience with your product.
This is why, one repository where you can gather feedback in one place from the very beginning, but differentiate them by the channel they came in from, can provide a lot of value later.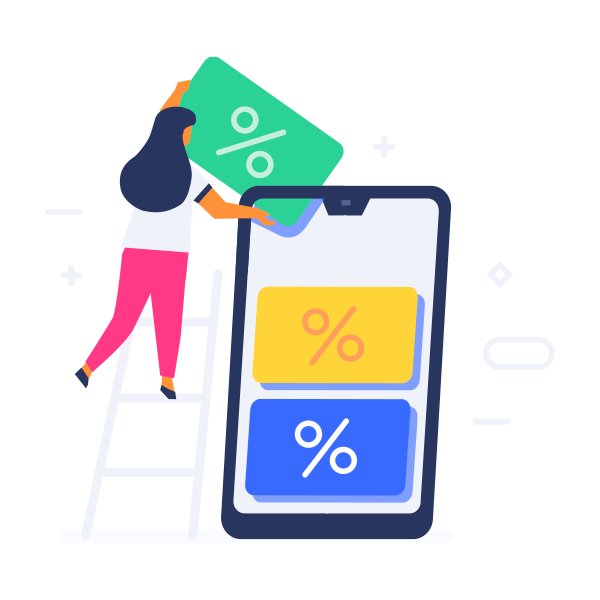 4. Convenience – incentivizing feedback, improving response rates
How do your customers leave feedback? Do you force them to look at Trello boards or leave feedback on Jira? Why not open as many channels as possible for feedback? In case you have a feature request tracking tool in place, it can gather feedback from all channels where feedback might arise, allowing our users to leave comments where it's most convenient for them.
Decreasing the effort it takes for users to provide feedback, makes them more likely to do so. Improve response rates by allowing them to pitch their ideas on as many channels as possible.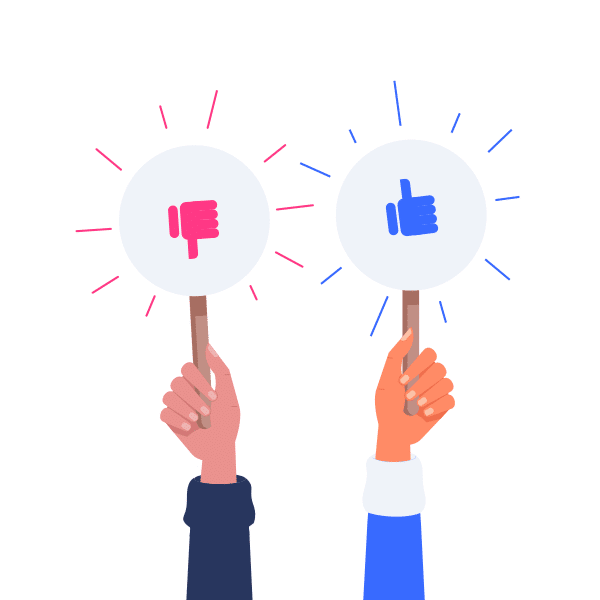 5. Promotes transparency – sentiments are instantly visible
Every time the customer success, sales, or support team forwards user or customer feedback, it gets distorted slightly. By the time, the feature is pushed into development, understanding of what the user meant exactly might completely be lost. Your best option is to opt for a feature request tracking system that keeps track of the original feedback.
Seeing what users and stakeholders requested originally bring an additional transparency in the development process. Just as the product team starts taking the feature into a whole different universe, you can come back to it to reflect.
Such a feature may come in very handy for Product Managers, as well. They can see whether the feedback was provided by a happy, satisfied, angry, or very annoyed user. There are times when that makes all the difference.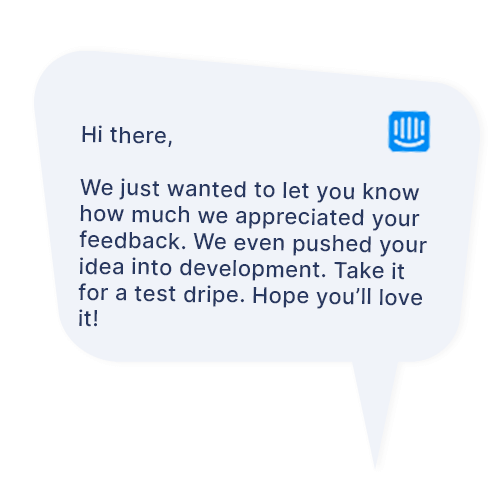 6. Allows closing the feedback loop
Imagine the following situation: product research conducts a customer interview that brings light to an important insight. The PM considers the feature and assigns the dev team to do some more technical research on implementation. The feature gets implemented but cannot be deployed due to a variety of reasons, for instance, a third party needs to approve the change, but that requires additional documentation. The feature is put on hold. In the meantime, the product research team has started using another tool to track interviews that notes of older interviews hadn't been synced with. Once the feature actually gets out, the user who gave the idea initially is forgotten. If that was your experience with a product, would you be a happy user?
Having such an experience is not very likely to turn you into an advocate for the product.
So what can you do to follow up on those feature requests and turn your users into advocates?
Without a feature request tracking system, you'll probably be digging up contact infos for longer than you like.
If you keep track of users who requested a given feature, they can always serve as a base for early-bird users who will be happy to take your development for a test drive.