What is a Gantt Chart?
Gantt charts are bar charts providing a visual perspective to tasks that have been scheduled over time. They are used to plan projects of different sizes, and it helps to show the work that is scheduled for different days. Gantt charts also help users view the dates when a project is starting and ending in one chart. There are many things that you will see easily on a Gantt chart. Some of these are:
The date when the project is starting,
The tasks that will be completed during the project,
The person working on individual tasks,
Start and finish time for each task,
The time to complete each task,
How tasks are grouped, overlapping, and linked with each other,
The date when the project will end.
The horizontal axis of Gantt charts stands for a time while the vertical axis represents the tasks to be done. Therefore, the user will have to input the tasks, the starting dates, the ending dates, other dependencies, etc. As you do this, the bars will populate, representing the task durations. You will see this happen automatically if you are using Gantt chart software or other Gantt planning tool.
Contents
Using Gantt Charts for team collaboration 
Team onboarding is effortless and straightforward with many of the project management tools online. You only need to invite your team members to the tool of your choice to start to boost project management in many ways. For example, Gantt charts make it easy to communicate deadlines in a clear way to teams of different functions.
Whatever tool you choose, a Gantt chart will help you communicate expectations to your team in a very efficient, clear way.
Gantt Chart tools
Here are some of the popular Gantt Chart tools and their most prominent features.
| | |
| --- | --- |
| Tool | What they're best at |
| ProjectLibre Cloud | For MS Projects |
| GanttProject | For robust export |
| Agency | For small teams |
| OpenProject | For Mac or Linux users |
| Tom's Planner | For freelancers or individuals |
| dotProject | For community support |
| Excel | For versatility |
Using Gantt Charts for software projects
Gantt Chart for waterfall projects
The logic behind Gantt charts naturally suits waterfall methodology better, because you need to know – at least roughly – what you're going to implement to create a schedule. Therefore, you're likely to come across Gantt charts in teams and organizations following the waterfall model.
Gantt Charts allow for mapping dependencies and subtasks across different phases of the project throughout the project's life cycle. This tool is best for scheduling and planning in time. All tasks are on the timeline and the project manager can easily set milestones, link dependencies, manage resources, etc.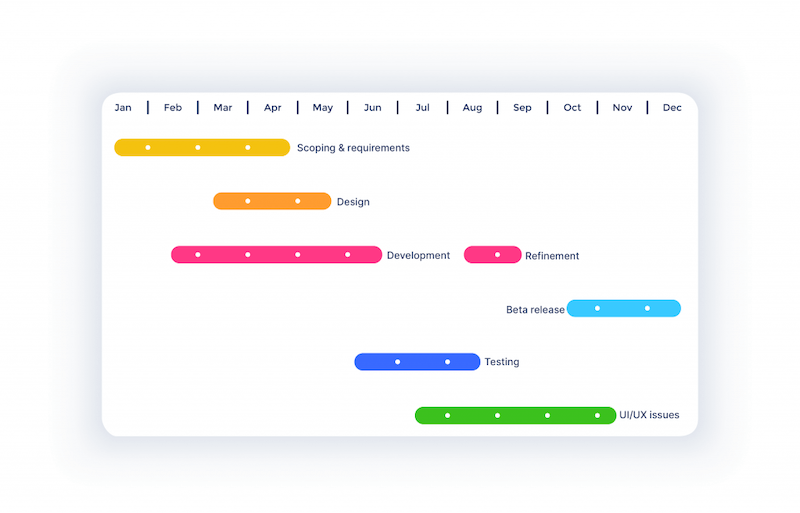 Gantt Chart for agile projects
As for agile projects, Gantt charts are used to map more granular pieces of the development process. They can show the progress of sprints, facilitate communication with stakeholders and track time.
A good use case for using Gantt charts for agile projects is when you have a large, complex project that requires several teams to work together. Even if they follow agile principles within the team, to coordinate all teams the project will probably need a hybrid approach. In this case, a Gantt chart can facilitate communication between teams and planning.
What is story mapping?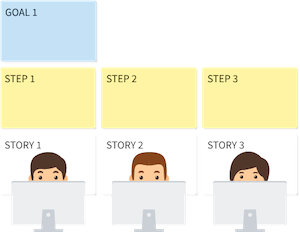 Creating user story maps is a visual exercise helping development teams and product managers to define a work that makes a delightful experience for users. This helps to improve the way the product team understands their customers and helps to prioritize work.
In story mapping, the team creates a dynamic outline of a user's interaction with their product. This helps them evaluate the most beneficial steps to the user and prioritize the next thing to build or create. For agile organizations, this provides them with an alternative to creating to working from a lengthy document of requirements or creating a roll of backlog items.
In creating story maps, user stories are used to communicate the requirement based on user value. This will build and validate a shared understanding of what to do to develop the products users will love. Product teams write user stories in a way that captures the value of the business, and it will be finished within a sprint (development iteration).
Story mapping for software projects
Story mapping can facilitate the planning of both agile and waterfall projects. By framing the problem the software tries to solve from the user's point of view, the primary goal of story mapping is to implement exactly – and only – what the user needs and will love to use. The idea behind story mapping is a more adaptive approach, as in many cases the developer and designer team discovers key usability aspects during implementation.
With that being said, we strongly believe that story mapping can deliver a lot of value for non-agile teams, as well. Simply following the natural narrative flow of the user journey while planning will help the entire team emphasize with the user and thus, create better, more user-friendly products.
What's more, story mapping has other use cases and benefits, as well: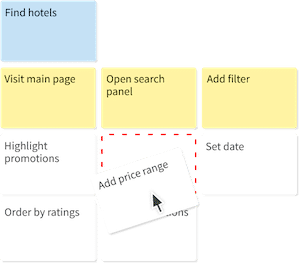 iteration planning during the project,
tracking development progress based on user journeys,
communication with stakeholders with a visual tool,
team onboarding,
backlog management by connecting your story mapping tool to your issue tracker,
prioritize features based on value to the user,
planning releases and sprints.
Differentiating Story Maps And Gantt Charts
One of the most significant differences between the two tools is their use case. Gantt charts can be used by different people across different roles, such as project managers, team leaders, general managers, marketing managers, scheduling managers, operations managers, etc. It can also be used for collaboration across different teams such as project management teams, IT teams, marketing teams, manufacturing teams, product development teams, etc.
On the other hand, story maps are used mainly in software development, especially in by-products teams. Product teams may use both story maps and Gantt charts, but they will be used for different reasons. While the Gantt chart will ensure organization, planning, and tracking progress on projects or sprints, the goal of story maps is to determine software requirements, manage iterations, and fine-tune the backlog.
Conclusion
Story maps and Gantt charts are two tools organizations have to take advantage of to get the best out of their team. These tools are different, and each has its specific use, which makes it even easier to use both together towards completing a project and creating products that customers will love.
Handpicked articles for your story mapping journey
About the Author: Thomas Jackson is a professional freelance content writer at college paper writing service. He is an active member of several writing clubs in New York. He has written songs since he was a child. In addition, he gets inspiration from the live concerts he does in front of close friends and family members.