In the previous part, you got some insights about how a brand-new project can be managed. To be honest, starting a new project from zero and executing the plan without any emerging task happens once in a blue moon.
The reality is that a product manager has to manage running developments with emerging tasks (ideas, feedback, modifications). We'd like to give you an effective, agile workflow template to handle new tasks without disturbing the development's rhythm.
Ok, but how comes a planning tool to a running project? Follow us on this article to find out more…
Agile workflow for emerging ideas
The product's backlog is not the only one that delivers inputs to your workflow. New ideas and feedback can emerge and you have to handle them. Putting these cards directly into the development's workflow is the worst solution for that. Sending these cards randomly to the dev team has the following risks:
wasting the team's capacity by developing unnecessary features
losing focus by developing features that are out of scope
missing the deadlines for processing unestimated tasks
That's why you have to set up an agile workflow for inputs. This process will
analyze new items and don't let you develop something useless
prioritize new tasks on a story map and guide you to schedule them
estimate new tasks and gives help to release/sprint planning
Now create a list where emerging ideas will be collected. The simplest way to handle them is an "input queue" list. You can create a sophisticated agile workflow for processing inputs by adding "analyze" and "implementable" lists. This workflow is useful when new items are detailed and/or appear frequently.

The workflow contains the following steps:
let everybody add new ideas to the input queue
and send implementable ideas to StoriesOnBoard to prioritize and place them on the product's backlog
analyze ideas (Is it valuable/useful for a user? How important is it?)
import next selected tasks to Trello and put them on the "todo" list
This solution separates emerging ideas from the scheduled tasks and keeps the dev process uninterrupted.
Preparations
Although finished tasks give a good opportunity to rediscover and improve your product, we'd give you an agile workflow template for actual and scheduled tasks. Therefore clean your board out and archive finished tasks. Less task on board helps your team to stay focused.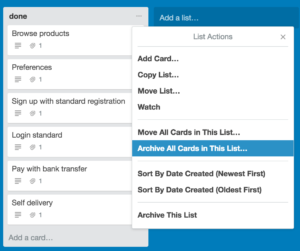 1. Trim your Trello board
Remember, keep your Trello board organized. This is not just about how to trim your lists at the beginning of the process. Don't let the "done" list flood.
Hide tasks from subsequent releases by archiving them.
2. Create a new story map and sync it to Trello
Read more about how to sync Trello to StoriesOnBoard

3. Import cards from Trello
Note: Turn off importing archived cards
Rebuild backlog on a story map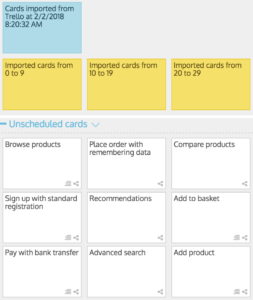 First things first, import cards into the story map. StoriesOnBoard will organize tasks into columns for a better view. Keep in mind, that importing tasks won't disturb existing releases and assigned cards. New tasks will appear always in "unscheduled cards"-release.
Although only one Trello board can be connected to a story map, StoriesOnBoard handles every import separately.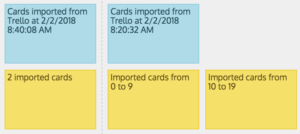 It's time to create the product's backbone!
Create user and activity cards on the top of the story map, then organize imported tasks under them.

If you need help, read more about this process in the previous part: Plan and develop a better product using StoriesOnBoard and Trello.
When all cards are removed from the Trello import block, delete it. Hint: Don't forget to always remove empty import blocks for a better overview.
Now, the tasks are still unscheduled, so create the first release and name it the "current release". If you don't have any release strategy move the highest priority and running tasks to this release.
Using MoSCoW prioritization try to organize the remaining cards under "must have", "should have" and "could have" releases.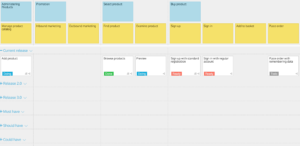 When the tasks are grouped and scheduled based on a former backlog, implement that release strategy into the story map. Creating the three prioritization releases is also advisable in this situation.

Using prioritization releases has two main importance in agile development.
helps to place new tasks on their priority
and gives a good starting point for release or sprint planning
How does it work?
Add new items (ideas, customer feedback, tasks) into the "input queue" list.

2. Import accepted cards and empty the "implementable" list. The best method for this process is importing ideas just before the release planning. Don't let your lists flood, empty the input queue.

3. Analyze ideas and remove them, when they are out of scope. Move accepted tasks to "implementable".
According to their priority move new cards into existing releases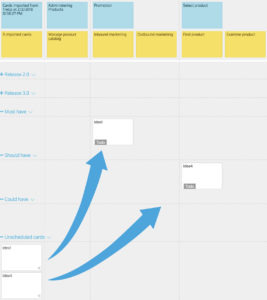 If you don't want to remove permanently a rejected idea, then keep it in a "won't have" release.
Create an "Analyze" release if the analyzing process is separated from importing process (e.g.: you analyze ideas by brainstorming). Keep imported cards in the "Analyze" release until analyzing them.
4. Push cards to Trello. Note: If you would push a formerly imported and/or archived card, click on "go to linked card" and restore it.
Works with Scrum?
Definitely yes! While a scrum team is working on a sprint scrum master can collect feedback and ideas. SM keeps unscheduled and unestimated tasks away from the dev team and avoids losing the pace. Adds estimation and organizes new tasks at sprint planning.
Rediscover the product by story mapping
Now we gave you an impression of how to manage a new project. We introduced how to handle and implement emerging product development. But what about the old backlog and finished tasks? They are useful and help you to rediscover the product. What does it mean? Follow us in the next part to get ideas about how to perfect your product's plan by rediscovering.