In the previous parts, we introduced how Trello and StoriesOnBoard work together in an agile workflow. You got insights about a new product's development and got hints and tricks about establishing this workflow in a running project.
Our previous articles highlighted the opportunity for product rediscovery but didn't expound on the topic. Follow us in this part to earn experiences in product rediscovery.
What is product rediscovery?
Product rediscovery when existing features lead to new product and feature ideas and product improvement.
The product rediscovery process enhances a product in the following ways:
helps you discover holes in the product or the user journey
gives a starting point to explore new ideas and features to improve the product
lets you examine and specify existing ideas – controlled discovery
We wrote this article for Trello users but the workflow is suitable for other agile project management methods. Rebuild your product's story map from any old-fashioned backlog. After synchronizing JIRA cards the process will be the same.
Preparations
The preparation process is a no-brainer. The only thing you have to do is import cards from your Trello board into an empty story map. In the previous part, we advised not to import older and archived cards but they can be useful, so import them. Read more about synchronization.
Avoid failures by discovering holes in the product
Although you created the product's plan in a good old way, apparently few features will miss from the final product. You can avoid this sad situation by giving a new chance to create a better backlog. Missing features often belong to missing steps in the user journey, so we concentrate on users' activities first.
You have two options to rediscover the product. One of the best methods when you create a brand new story map. Don't let your team be biased by existing tasks. Pick one of your users and tell her story. Follow the narrative flow and create cards from the main activities and steps. Split big steps into smaller ones. Thereafter it's time to import Trello cards and arrange them below activity cards.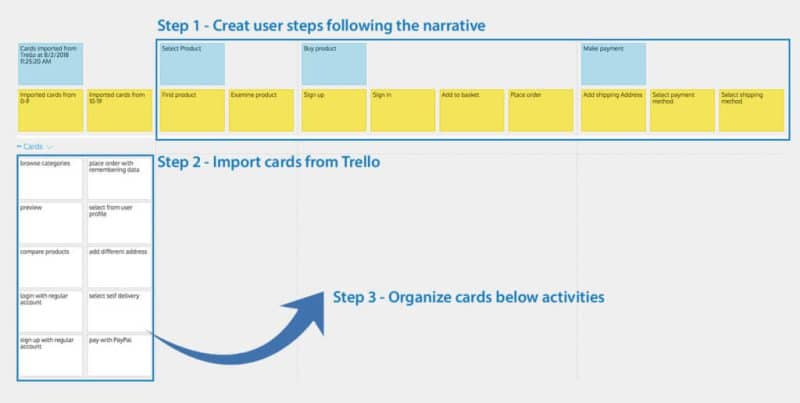 If there aren't tasks beneath an activity card, there can be a missing feature. Focus on these user steps. What kind of feature can solve the step or how can a feature serve a better user experience?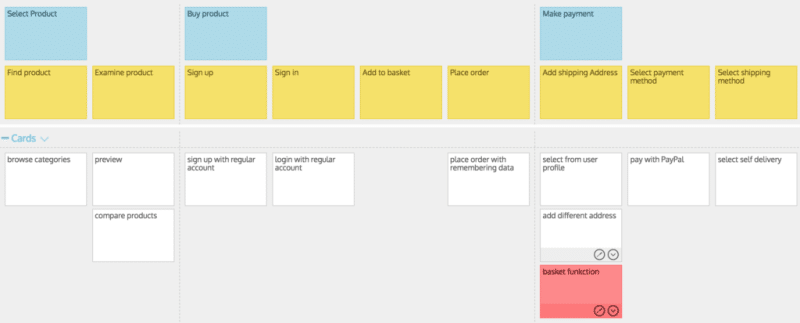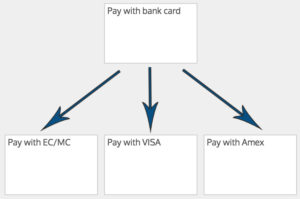 After creating new features split them into tasks, prioritize and arrange them below releases.
If you didn't create a release strategy, use prioritization releases. Make users satisfied by solving their problems. Push high-priority tasks back to Trello and let the dev team solve the problem ASAP. Schedule low-priority issues into the next selected releases,
You can reproduce the user journey right after importing cards from Trello. Use this method and you'll get the backbone of the product faster. Be thorough, and don't miss steps out. Avoid this risk and try to retell the story to find the missing jigsaw pieces.
Improve the product by rediscovering it on a story map
So you found holes and solved the issues but what's next? Do you have new ideas but don't know how to continue? It's time to find improvement options. Another great benefit of product rediscovery is that you'll get tons of opportunities after story mapping. This step can follow the above-described process.
First, try to make up at least one additional function or feature below each activity. All brand new tasks have to serve better usability.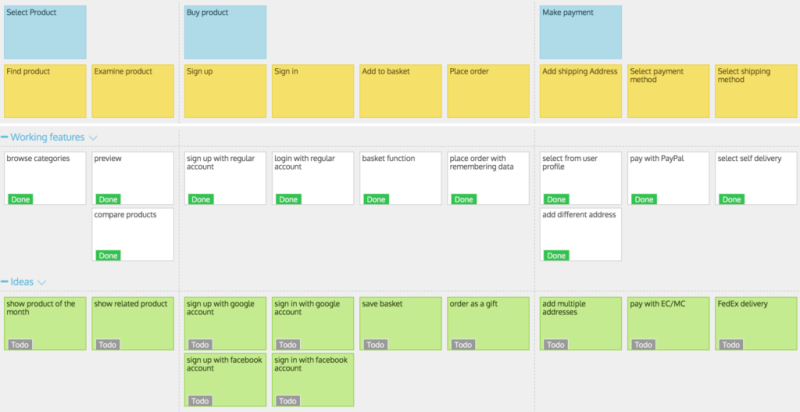 Despite visualizing the products puzzled about how to deal with the lack of ideas. Don't hesitate and organize a brainstorming. Facilitate teammates by using special brainstorming techniques, for example, reverse thinking. On the other hand, you can do market research or collect user requests. We appreciate our users' needs and accept requests on UserVoice.
When your story map is full of good ideas, create MoSCoW releases and prioritize cards. Don't forget to schedule new tasks and deliver cool features early and often to keep your customers smiling.
Examine new ideas on a story map
An exciting outcome may be a discovered user or a whole user journey. Don't hesitate to add new user stories or even a new story map. StoriesOnBoard supports creating personas on the top level of your story map. Make experiments by retelling only a selected part of the journey using additional story maps. Let us share a little secret. Professionals create several story maps and dive deep into a selected part of the backlog to discover missing items. Organizing these mini-projects into collections.
If you are convinced about the new part's importance add it to the original story map. Prioritize and schedule new cards on the product's backlog.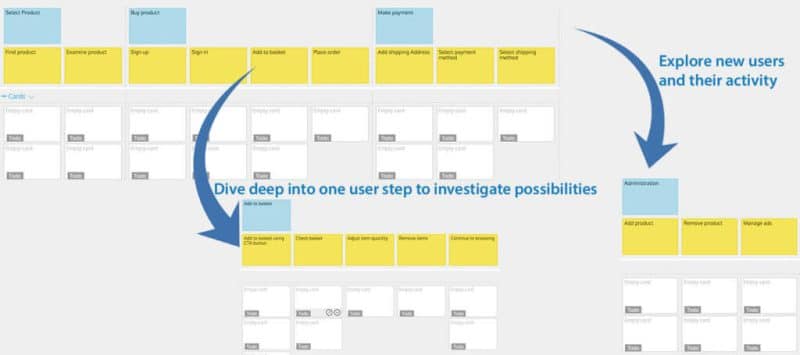 Use these techniques to improve your product like a pro and flood your boss with positive feedback.