Involve customers in product development is crucial to enhancing the customer experience and delivering an outstanding product.

An internet search yields many great ideas, from collaboration and co-design to submission, but often Product Owners and Product Managers find it hard to turn suggestions into working solutions. Why? Because a good technique works only when you have an effective tool to implement it.
Involve customers in the product story map
User story maps are designed to build shared understanding via visuality and simplicity. This shared understanding is not only for dev teams; invite your customers to the product's story map! By introducing the anatomy of your story map, everyone involved gains a clear overview of the whole product.
Once customers more easily understand the epics, goals, and features on a story map, they can track product development and discover missing or unnecessary features. Managing product planning with a story mapping tool leads to more value to the customer, and since it is always available online, viewers can review progress and leave feedback.

This is not just another annoying process to implement! A Story Map is significantly easier than a flat, old-fashioned backlog to involve customers. Read further and learn more!
What does the story map tell your customer?
At the top of the story map, it's easy to involve customers: they see the epics, the user goals, or main activities. For example, the user goals on the Story Map below are to find the product, select the product, and buy the product when visiting a webshop.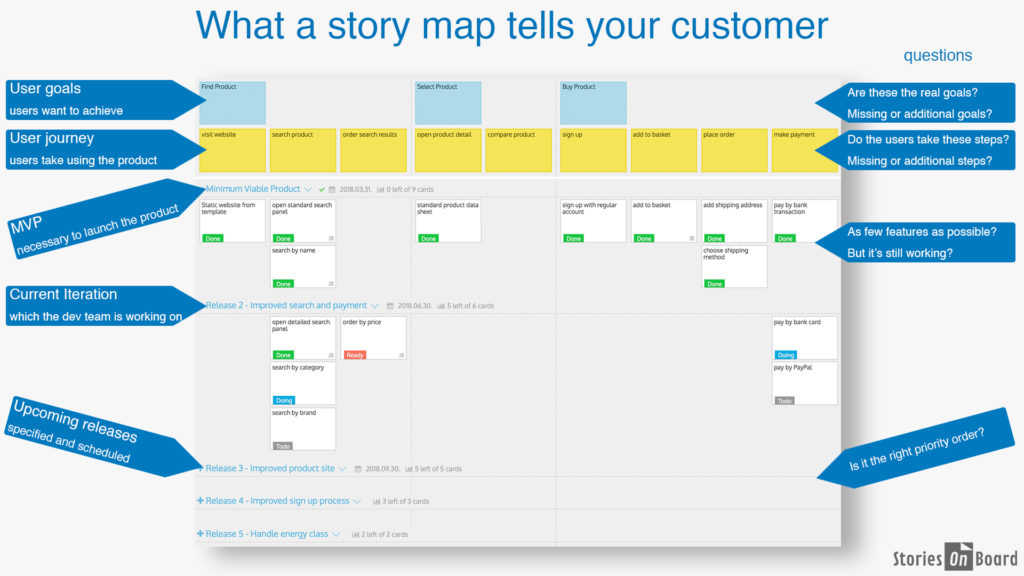 The next level, called the narrative flow, explains what steps the user takes to reach his goal. This helps viewers discover the missing steps of the user journey.

User stories, features, and ideas are under the steps. The card's vertical order express priority and the highest priority tasks are on top. The vertical orderThis facilitates discussion regarding task priority and allows customers to request reordering if necessary; the bottom of the list is the ideal place for adding unspecified ideas or thoughts.

Partners are always curious about how the work is progressing during development. By highlighting task statuses on cards, they can track the project and product launch! By slicing the backlog's body into releases, they can follow the related tasks, current iteration, and next month's summary.
When should I involve customers?
The short answer? As soon as possible. Filtering out misleading information is always a challenge for product development as the wrong information leads to unnecessary and inappropriate features. By building up the Story Map with your customer, you save time, dev capacity, and money. Remember, a shared understanding guarantees results. So invite teammates to brainstorming sessions to increase effectiveness.
Is your project already running? It's never too late to rediscover the product! Just build up the Story Map's backbone and organize tasks under the user steps. Now is a good time to rethink, re-prioritize, or reschedule upcoming tasks. In addition, once customers see the project from this bird's-eye view, they often ask to change the order of features or even whole releases.
How often should I involve customers?
I recommend regularly inviting your customers before starting a new release. However, one of the most important aspects of user Story Mapping is the elasticity of the backlog. The plans aren't carved in stone! Although releases have been ranked and scheduled, new ideas and user feedback can shift priorities. Managing a backlog in a story mapping tool allows involving customers to track the current iteration through card statuses. Story Maps keep your customers up-to-date with the dev process, building trust and transparency.
Manage story maps online to deliver more value
StoriesOnBoard, an online collaborative Story Mapping tool, allows product owners, business analysts, and customers to plan and track product development in real time. Although the tool is well suited to the planning process, here we focus on collaborative and customer-related features.
Share the backlog
A huge advantage to the online Story Mapping tool is unlimited access. Share your Story Map and collaborate online to save time on traveling to the customer's office. By leaving comments, adding ideas, and attaching docs, customers can leave feedback or ask questions so issues are solved efficiently and transparently.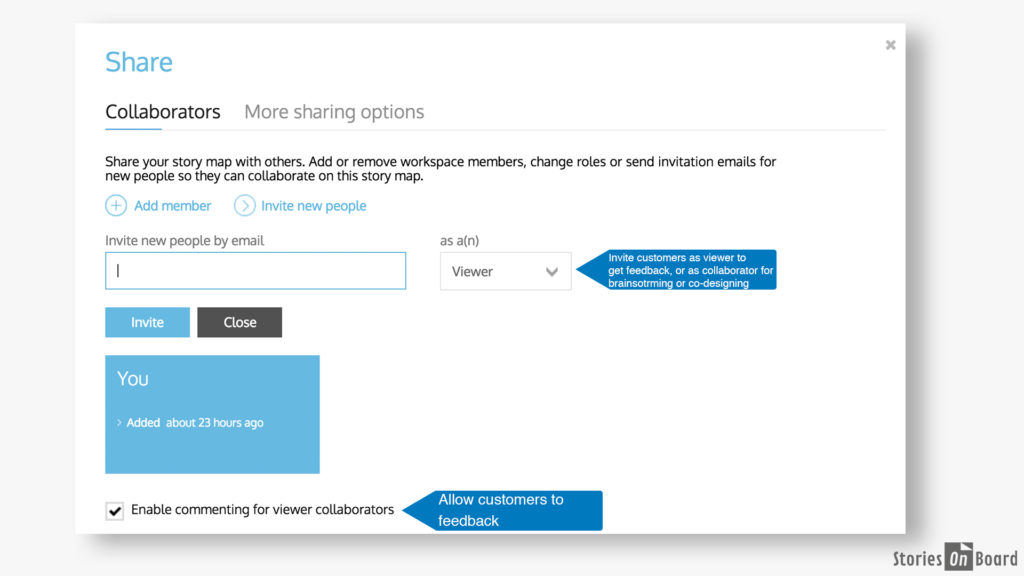 Some customers don't want to take part so deep in the day-to-day work. They would only get an always up-to-date overview and maybe comment. There is a simpler, but an easier way to invite these contributors by sharing the project's private link. Just send the link to the customer, who can enter the board with one click without any invite or registration process. If she would leave feedback then she can sign in individually. You can upgrade these viewers to editors later.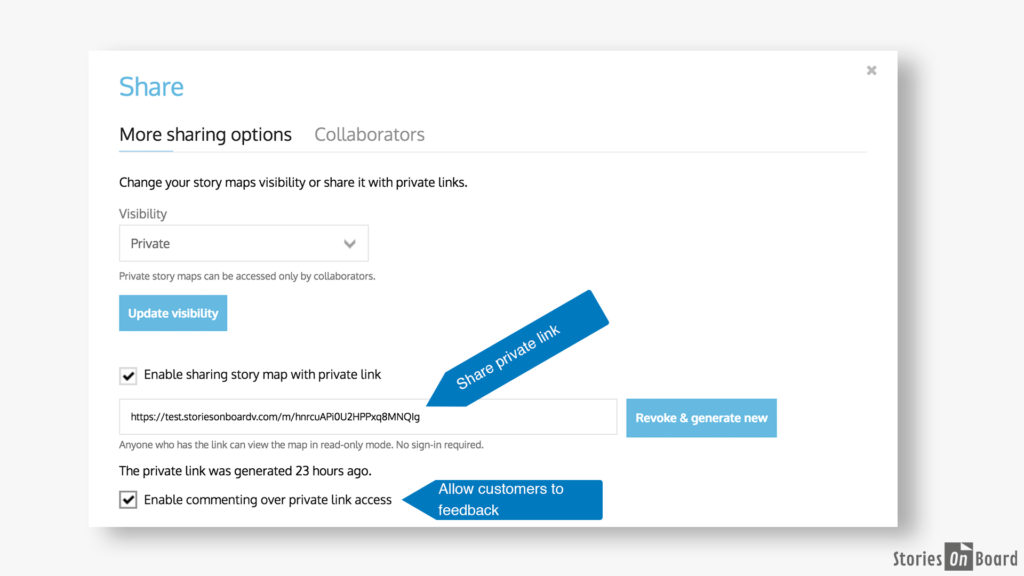 Brainstorming and co-designing
Get the most value by inviting partners at the beginning of the project. Grab the lead by using presenter mode in a remote co-designing session; each online user will be able to follow everything you do on the map. Follow the natural flow of story mapping while interviewing your customers about the goals and the user steps and keep in mind that the more participants, the more value. Invite anyone with relevant information about the product or users! Fill the backlog body with ideas, user stories, and features, then ask customers to prioritize them. (Don't waste time specifying stories–customers don't tend to care about these details.)
In addition, a brainstorming mode is a great tool for supporting collaborative or silent brainstorming sessions.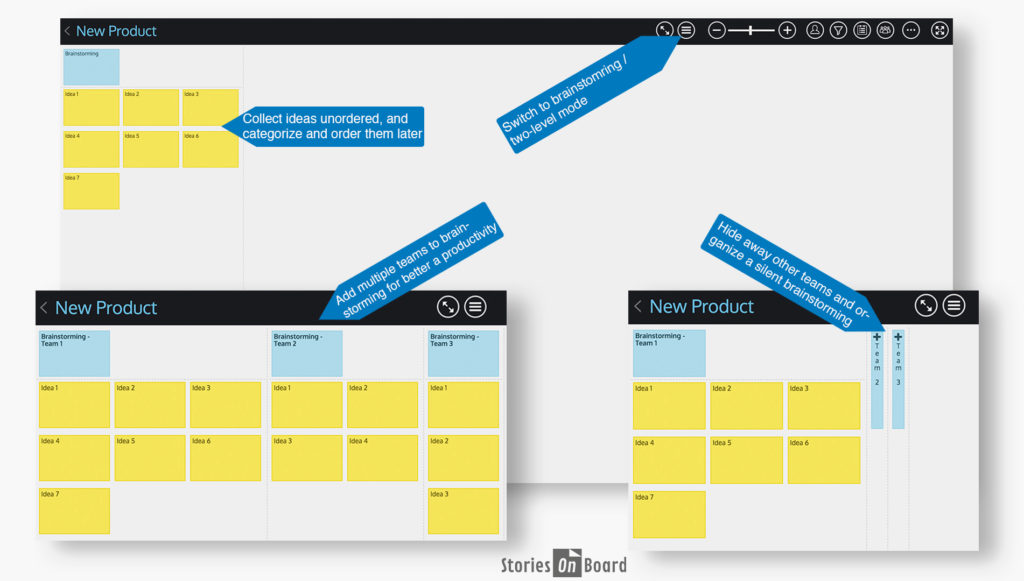 Bird's-eye view: delivering an overview
Whether or not customers took part in the planning stages, walking them through an overview of the story map is essential. Involve customers and they will inevitably point out missing steps or new ideas, initiating revision of goals, features, and scheduling. Always be sure to present the Story Map to partners before pushing tasks to the dev team.
Refine the project through real-time collaboration
Backlogs aren't carved in stone and are not meant to strictly schedule the entire development project. story maps are alive and evolving! Once a product is launched, user feedback and requests must be assessed and new ideas must be implemented; otherwise, users slip away and the product usage levels remain low. To avoid this, make a habit of collaborating regularly with your partners to revise upcoming tasks. User feedback may prompt your customers to shift priorities or goals regarding the next releases, so don't be afraid to rearrange your plan or insert new releases. Being agile and open to new requests builds long-term relationships with customers.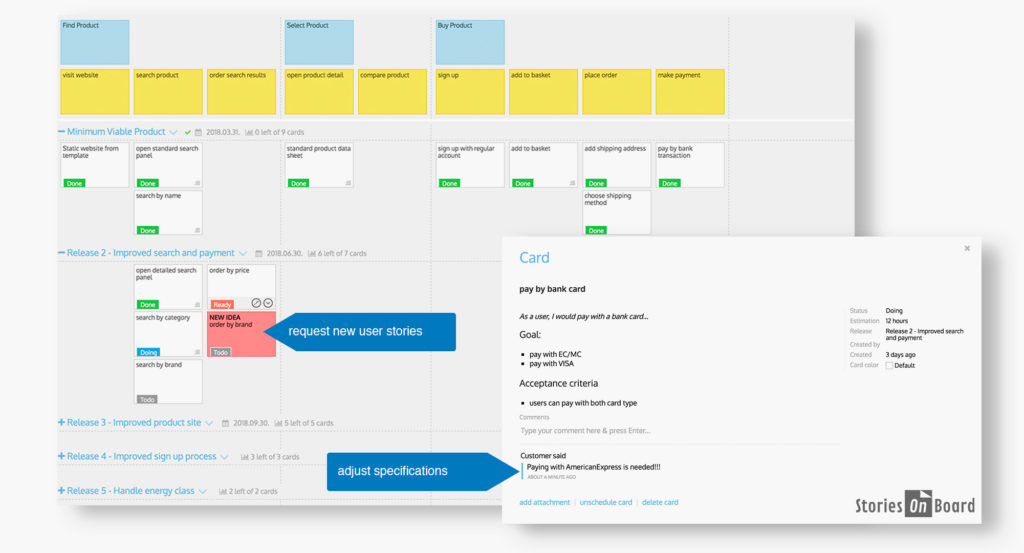 Estimations and releases – to forecast upcoming developments
Experienced story mappers insist on the importance of delivering "early and often," but what exactly does this mean? Short iterations allow you to react to changes as soon as possible and present a dependable, stable product that is constantly improving, building trust in product users. Promote customer loyalty by filling up the backlogs body with user stories and then slicing out the releases, grouping stories into small working features. As a result, the product is improved feature by feature, delivering extra value by reacting to user requests. Setting up estimations and release strategies on the Story Map to forecast the upcoming features to customers.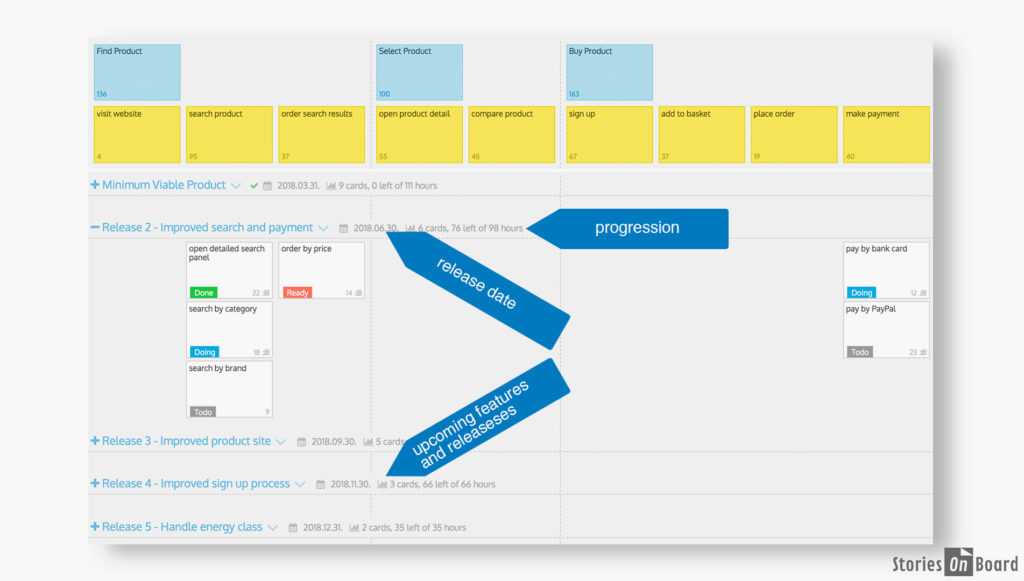 Status reports and tracking the current iteration
StoriesOnBoard has an impressive status report feature to track current iterations. After estimating user stories, your customer can follow the dev work. Status reports are updated in real-time and available for all Story Map collaborators.