Although it can be challenging to determine what customers need, there are many great product feedback tools available to customers that turn them into actionable insights. Understanding user behavior allows you to design products and services. It also helps you figure out how to increase customer lifetime value.
Contents
Data analysis can only take you so far. Businesses need to find the best customer feedback tools possible to get rich qualitative data and understand their customers aka managing product feedback efficiently.
You can also get feedback by using CX tools as well Q&A polling platforms, and other survey tools. But, not all customer satisfaction tools are created equally. Find the one that suits you best.

In the following, we'll show you our shortlist of the best product feedback tools and give you a sneak peek into how to channel all feedback into a single pool so that you can extract actionable feature ideas from them.
Best product feedback tools
1. Typeform – The fun form
Your best customer feedback tools will be those that users complete, rather than just clicking the close button. Typeform's striking form designs make it easy to use. Typeform encourages you to be creative and asks you questions in a conversational voice to help convey your brand personality.
Typeform offers a Live Preview mode that allows you to view changes in real time. It also has simple analytics that allows you to access quick insights. A Logic Jump feature makes each typeform smarter by advancing users toward relevant questions.
2. Hotjar – The Big Brother of product feedback tools
Hotjar is used in innovative visual ways by companies such as Adobe, Shopify, and SurveyMonkey. This solution is ideal for UX designers, marketers, and product managers. It visualizes user behavior to help you understand the interests of your users.
This is achieved through heat maps, which the best website monitoring tools use nowadays to paint a complete picture for developers, designers, and most importantly, decision-makers in an organization. These help you identify how users scroll, move and click. With visitor recordings, you can also see how your visitors navigate your website. Hotjar's conversion channels help you to identify where your visitors are falling off and then show you how to decrease the bounce rate.
Cool form analysis features identify fields that are taking too much time to fill. Feedback polls also provide insight into the motivation behind users' decisions.
3. Userbrain – The experimental
Userbrain is used to identify and solve problems visitors have while they browse your website by companies such as Virgin Mobile, Spotify, and Virgin. For example, one person could have trouble purchasing an item and another might struggle to navigate forms on other pages.
You can set up different URLs to monitor certain tasks. The platform is very easy to use. Userbrain makes it easy to manage and recruit test participants for your website. Instead, you can access a worldwide pool to help you test.
4. UserReport – The direct product feedback tool
Sometimes, it's not enough just to identify your users. To offer the most relevant products and services to them, you need to also find out their goals. UserReport is used by companies like Toyota, Johnston Press, and TripAdvisor. It can be integrated into a website or an app. It uses two widgets, a survey, and a feedback widget.
The first is very useful as it provides an NPS (or net promoter score) that gives you a simple number to show how well your users like your offering. This can be broken down into different demographics. Feedback widgets are a great way to gather ideas and fix bugs. This can help you prioritize features based on popularity.
5. Sprinkler – The hype builder
Sprinklr makes it easy to establish an online customer network. It can help you get quick answers to your customers' questions, gather feedback from consumers, and make informed purchase decisions.
Sprinklr offers several features, including the ability to divert customer support cases and help customers get faster answers. Additionally, it allows customers to make buying decisions using user-generated content.
It makes it possible to embed gamification features that reward and recognize community experts while motivating all members of the community to take part in conversations more often.
6. Revoo – The reviewer
Revo allows you to tell your website visitors what your customers think of your product or service. The tool only allows customers to submit reviews on behalf of companies.
This makes it one of the most trusted customer feedback tools since it helps to avoid fake reviews and transparency. Revo allows customers to send reviews to others who have purchased from your company. It asks customers about their purchase experience and what service they received. Moreover, customers also have the option to become part of a volunteer pool that answers questions from curious shoppers.
7. Loop – The visual product feedback tool
Loop, a visual customer feedback tool that allows you to both increase revenue and improve a product, doesn't make it an either/or situation.
What's more, this customer feedback management software also features a screenshot plug-in that can be integrated directly into your website. Additionally, an embedded forum allows your visitors to vote on feedback submitted by your site visitors.
It is very simple to be notified by email every time someone comments on your blog. Then, you can – you guessed correctly – keep them in the loop.
8. Intercom – The messenger tool
Intercom, a real-time messaging platform for business, helps companies grow loyalty and customer loyalty at every stage. It's used by more than 30,000 companies including Shopify, YCombinator, and Atlassian. It offers chatbots that engage website visitors and increase paid conversion rates. This can be complemented with tailored activation and onboarding messages that help forge the 1-1 connections needed to find value from products.
Intercom offers real-time tools, and rich insights, and amplifies team performance. You can try the lowest package for free. If you require additional functionality, there are Pro and Premium packages that offer more features at a higher cost.
10. Clarabridge – The social listener
Clarabridge is a machine learning and AI-powered tool that helps to understand the multitude of customer feedback received across different marketing channels. It uses rules that determine what customers want. This lets you automate processes while also measuring emotion and intent.
All customer feedback is collected from multiple sources and then compiled into one place. Data connectors then can pull in insights from all kinds of feedback, solicited or unsolicited, and create a picture of the customer journey.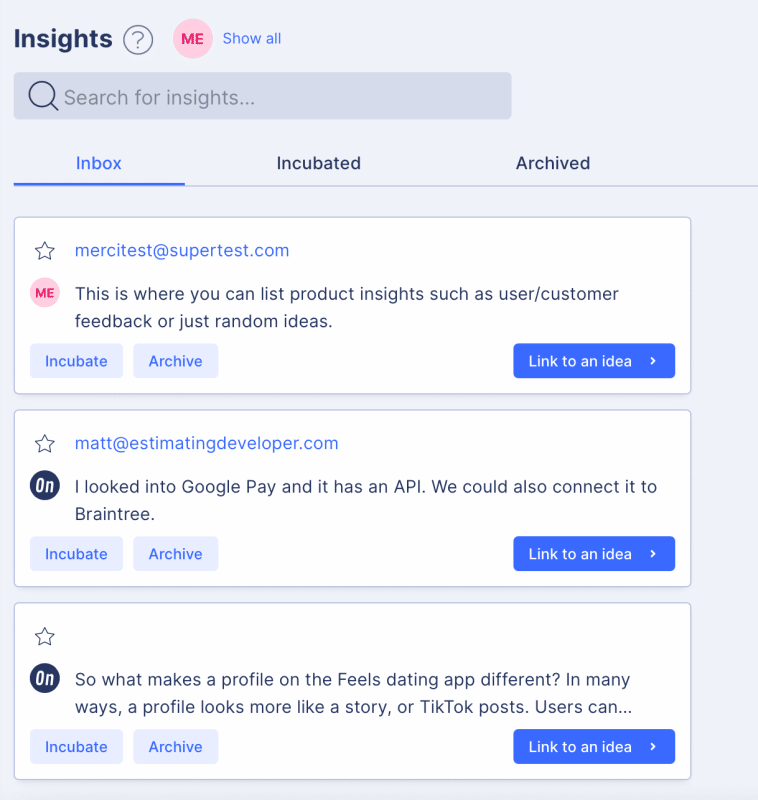 How to organize feedback on products from different tools
All the above-mentioned tools will help you get different kinds of product feedback – both qualitative and quantitative – that may contribute to a single feature. For instance, the NPS survey shows that users don't like a feature you have, but you might get an idea via the Intercom bubble how to fix it or what functionality users need.
Feedback that belongs together is often scattered across different platforms, making it harder to extract insights from them.
This is why you need a feedback repository to streamline all product feedback coming from various tools. What's more, it's best if you can automate that process and you'll find product feedback from different tools in a single channel.
We've also got you covered with that. StoriesOnBoard allows you to collect & sort feedback, develop actionable feature ideas from them and plan your roadmap. Then, you can share updates with people so they know the features are in use.
Author bio:

Adrian Lomezzo is a freelance writer at Us Essay Writers who has devoted his vocation to marketing. Additionally, Lomezzo teaches students to get new skills in this field. He loves adventure and views travel as his second way to recognize the world. Adrian is so glad to make readers happy with tips and innovations on how to boost website performance.