A project status report is an essential tool for monitoring the team's performance and progress. A good status report helps to plan ahead and improve organizational processes. The key is to create a template that can serve as a standard for all projects in your organization.
Contents
What is a project status report in project management?
The project status report is a regular document summarising the overall progress of the project against the overall project plan.
Project status reports offer a high-level overview for key stakeholders on the project's progress. It will help understand what's on track, what are the blockers, and what's coming next.
These documents also help improve communication within the organization, as everyone is kept informed about the progress of the project. It facilitates communication about the project by providing a single official report that everyone can refer to.
Project status reports are typically presented to stakeholders and customers on a weekly, monthly, or quarterly basis, mainly through data series, graphs, and charts. They also provide a documented history of your project.
Differences between project status reports and project health reports
It is important to note the differences between project status reports and project health reports.
In summary, a project status report is prepared for stakeholders and provides regular updates on the status of the project and its progress according to the project plan. It includes what has been completed and any outstanding issues. Finally, it presents a documented history of the project from beginning to end.
The purpose of the project health report is different. It identifies problems and risks that may arise in the project over time, so that they can be prepared for in advance, saving time and money.
The purpose of project status reports
A key benefit of a project status report is that the project team should agree on milestones and measures of progress at the start of the project. The project manager then summarises the criteria and uses them to produce a report that is useful to all stakeholders.
These documents not only help you measure the progress of your work at the right pace. It gives you the opportunity to plan the delegation of resources needed only in certain phases, or even to increase the number of people in the delivery team in time.
The benefits of effective project or workflow status reporting
Regular reporting can be tiresome, but there are many advantages of efficient reporting.
A well-prepared report increases efficiency in the following areas:
Monitoring the project status
Avoid project redesign and re-work
Transparent sharing, tracking, and history of next steps and action items
Proactively and timely identify blocking or impeding factors and bottlenecks
Fewer time-consuming status meetings
Improve project health
Streamline communication across the stakeholders
Enables a consistent overview, administration, and management of projects within the organization
Frequency and format and types of project status reports
Every organization and every project is different. However, project management experts usually recommend weekly or sprint-based progress reports to direct the project team members and stakeholders. Less frequently, monthly or quarterly progress reports are given to senior managers and stakeholders, and annual assessments to top management.
Project status reports can be presented in text or picture form, as a complex presentation, or as a simple spreadsheet. Project status reports can be presented in text or picture form, as a complex presentation, or as a simple spreadsheet. Many project management software supports the automatic, up-to-date generation of reports, including workflow and release status reports in StoriesOnBoard.
How to create a project status report template?
The outline of the project status report usually includes the following:
List of tasks completed, ongoing, and planned for the next period
Summary of the project budget and timeline
List of action items modifying the original plans
Any problems and risks and what is proposed or planned to address them.
Keep in mind that
This should be a short document of one or two pages
Who is it for, and what is your target audience (customers, board members, sponsors, clients, etc.)
Use easy-to-understand data visualization techniques: graphs, charts, and timelines
Establish a format at the beginning of the project and stick to it throughout, so that reports are coherent and clear later on.
As the status report is based on a standard outline, it may be useful to use a project status report template.
However, a template is just a static document, it is better if the application that generates the project status report can be integrated with all project management tools for greater efficiency and time-saving automation.
What should a project status report include?
1. General info and project details
Create a checklist of the following:
Project name
The status date, and cadence of the report
A brief introduction to the project

A summary of the project duration, scope and budget
Project goals/ expected results
Client/customer
Project Manager/Product Owner/Product Manager, key team members, stakeholders
Applied technologies, frameworks
Participating teams, number of resources, and competences
Key dependencies
All this information may seem obvious and unnecessary but do not assume that all stakeholders are aware of it. This precision can be particularly useful later on when you are doing retrospective research for future projects.
2. Milestone review
Don't just think in terms of time periods, milestones are just as important because they show the main stages of the project.
3. A short summary
How to create a project status report in StoriesOnBoard?
You can prepare board-ready workflow or release status reports like this with just a few clicks.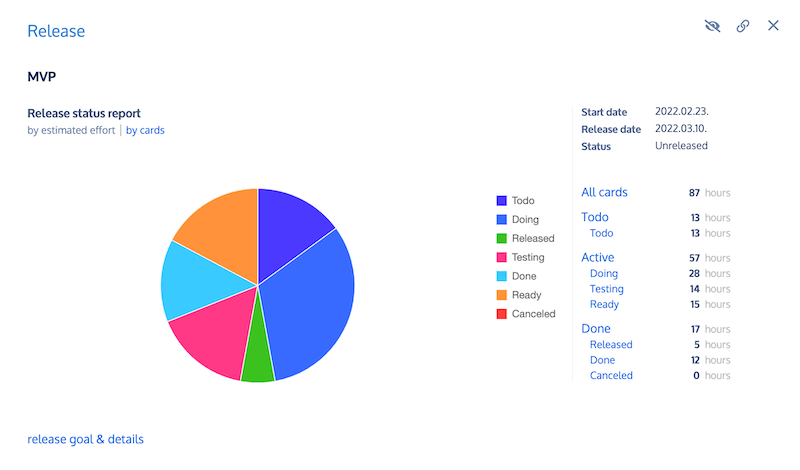 Story maps have a release view for a quick overview of an iteration
If a release is linked to a roadmap card, you can use the progress bar to track progress or open the card for a detailed project status report.
You can visualize the development progress on a pie chart per estimation unit or per card. The hovering piece of the pie chart highlights more details.
If you show multiple releases in one report, the status report summarizes all the cards for all releases, with quick links to the related story map(s) and release views.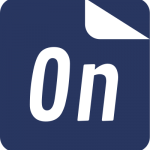 Build better products faster.
Get started with StoriesOnBoard today!

14-day Free Trial. No Credit Card is Required.
Related articles