What is User Story Mapping?
It is a way of thinking, an essential problem-solving technique, and a framework. Originally and most often used by agile product teams. It is much more than just another product management tool that was once a whiteboard and a bunch of sticky notes.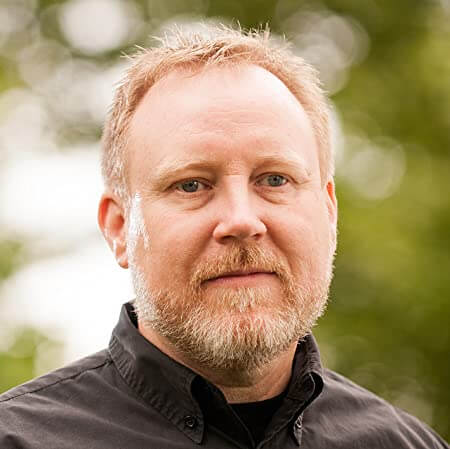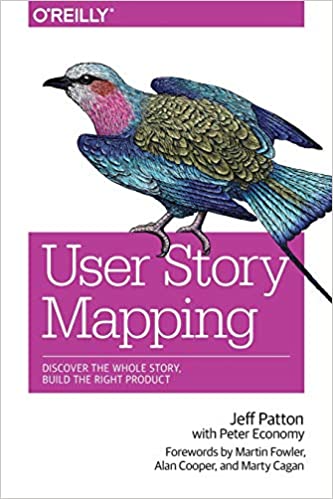 Jeff Patton, author of the world-famous bestseller on user story mapping principles has a background not only in software development and product management but also in product design and UX design. That's how this product discovery technique is connected to the Lean approach and Agile methodologies like Lean Startup, UX Design, and Design Thinking. Patton himself coaches teams using a mixture of all these frameworks.
By prioritizing typical user needs, goals, and activities into user stories, the team creates an intuitive, visual backlog that is easy to understand for everyone. This is what we call a user story map.
Benefits of story mapping
It is perfect for
product development projects – from product roadmaps to release planning
product design – whether it may be a physical or digital product
service design
agile marketing projects – e.g. for creative agencies, with cross-functional teams with many stakeholders
planning complex projects with an agile mindset, or with a diverse agile team, and the basic need for shared understanding
When to use story maps?
Story maps can be used at any point in the product development process to keep discussions on track and ensure a common understanding of the team.
Typically, product teams use story maps in the product discovery phase to organize the ideas generated during brainstorming and turn them into user stories. They are also helpful when creating a backlog of features to prioritize.
How do you create a story map?
Story cards are created and sorted horizontally by user action steps and vertically by importance.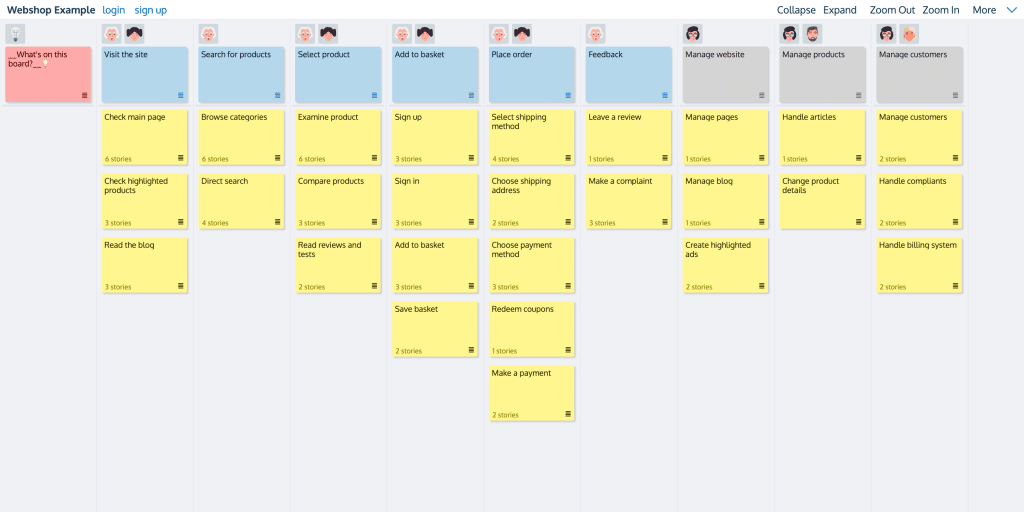 Their reordering is an iterative process sprint by sprint. Story maps are two-dimensional backlogs that anyone can understand. It is that simple and powerful.
What tools do you need for story mapping?
No matter how complex the project is, you only have to go through these few steps. There are tools for user story mapping: StoriesOnboard is one of the most popular user story mapping apps. It is practically an intuitive online story mapping tool made for agile product teams and helps you to succeed.
1. Discover project goals
Summarize what potential users want to achieve by using the product.
2. Create end-user personas
Knowing and understanding your target audience
3. Map the user journey
Identify the steps that will lead the user to achieve their goals.
Keep in mind: 'As a __, I want to __, so that __.'
4. Create user stories
Find solutions to implement the user steps.
5. Prioritize
Identify the most common user action or basic solution to the initial problem. It may be complicated, but there are several useful prioritization techniques.
6. Select your first release
Specify the Minimum Viable Product, and the following releases (incl. dates and estimations)
Who should be involved in story mapping?
Anyone involved in the agile development process can be a story mapper, but the most common roles are the following:
Product owners, product managers, business analysts
UX/UI designers
Developers, testers
Stakeholders: internal /external stakeholders, clients, and users
Advantages of this technique over a simple, flat backlog
In case you are working on a complex product, service, etc. with a diverse product team and multiple stakeholders, and from time to time you need to agree on priorities to move forward, story mapping is the best solution for you.
In addition to a simple backlog in Jira, Trello, or Azure DevOps, your product team also needs a visual story map that is understandable and transparent for everyone.
10+1 benefits of having a visual representation of the backlog:
Transparency and shared understanding for non-developers too
Improves communication with all the stakeholders
It is clear to everyone where we are, what we have achieved so far, and what the challenges are.
Big picture and prioritization – you can see and reorganize the essential and non-essential product features
Having a roadmap from MVP to all the following releases
Visualized user flows and user journeys
Helps to detect hidden tasks and potential features
Easier collaboration with stakeholders, demos are short and simple
Allows more information to be collected and grouped
Perfectly captures the 'who', 'what', and 'why
It is easier to slice large requirements or epics into smaller items or tasks
Learn more from our free story mapping e-book
Summary
Story mapping highly supports delivering customer value on time. It's ideal for complex, large projects or campaigns that take a long time to complete while ensuring the big picture is clear and that nothing is missed.
Have we convinced you already? Would you like to see how an online product board with original post-it notes works? If you are new to this technique, start here.
Try out the hidden tricks of user story mapping and the StoriesOnBoard features that help you get the most out of it! We have an amazing support team just waiting for your questions.